The Preston Stanley Room
Overlooking the state library, this bright and modern room is deal for conferences, seminars and workshops.
This room features state-of-the-art audio visual facilities including two drop-down screens, two data projectors, and one lectern with a microphone.
Capacity: Banquet 60 | Cabaret 42 | Boardroom 40 | Cocktail 90 | U-Shape 30 | Theatre 80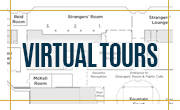 Did you know?
In 1925, Millicent Preston Stanley (1883-1955) became the first female member of the NSW Parliament. Today, we celebrate the contributions of this trailblazing politician with a special room named in her honour.

A conservative and a feminist, Millicent was in the NSW Women's Liberal League, Sydney's Feminist Club, the Women Justices Association and the Nationalist Party for many years. Millicent was a driven politician, advocating fiercely for child welfare reform and equal rights for women.
Enquiry about this room