Parliament Gift Shop
Remember your trip to the Parliament House with a souvenir
The Parliament Gift Shop is located within the Public Cafe and is open Monday to Friday from 9:30 am to 4 pm.
The range of items include products sourced from local NSW farmers, designers and artists. Items include a selection of handcrafted organic soy candles, 100% raw honey, organic skincare products, Parliamentary history books, stationery items, rural printed greeting cards and books, indigenous designed scarves, coffee mugs and pillows and a selection of NSW made and owned wine, gin, whisky, beer and rum.
Most items are available online for delivery. For more on the gift shop please visit www.parliamentarycatering.com.au/shop

Post Office
The Parliament Post Office is open on Monday to Friday from 9:00 am to 5:00 pm. The onsite Australian Post Office provides the convenience of posting your souvenir gifts directly from Parliament House. A postcard can be purchased from as little as $1.50 and mailed to anywhere in the world.
For more information on the services available from the Australia Post, please visit the Australian Post website.
100% Organic Soy Candles from Meeraboo, Canowindra NSW
Features hand painted illustrations of native flora and fauna by Holly Sanders. This collection is not only a celebration of culture and Country, but also represents the merging of traditional and contemporary Indigenous art.
100% Raw Honey from Maya Sunny Honey, Mudgee NSW
Maya Sunny Honey unique honey harvest consists of a system that allows the bees to come into an empty jar and create the honeycomb from scratch. Each jar is a mini beehive, with about 450-500 bees working to sculpture an exceptional and unique honeycomb. Each jar displays the natural alignment of the honeycomb production by the bees. The essence of the Australian bush is contained within the honeycomb in the jar. Traces of natural healing propolis* may be found around the neck of the jar and inside the jar. This system of honeycomb production is unique and revolutionary.
Avalind Photography by Kim Storey from Eugowra, NSW
Kim Storey is an accredited photographer with the Australian Institute of Professional Photography who specialises in family art prints and canvases of rural Australian landscapes.
100% all natural organic skincare range from Earth & Grace Skincare, Denman, NSW
Earth & Grace is 100% all natural organic skincare from Denman, NSW. The products combine the naturally nourishing, ancient properties of olive oil with the regenerative elements of natural extracts.
Indigenous designs by local artist Nadeena Dixon, Redfern, NSW
Nadeena Dixon is a Wiradjuri, Yuin and Gadigal cultural practitioner artist based in Redfern, Sydney. Her designs incorporate Indigenous symbology reflecting Indigenous knowledge and connection to the land, people and culture through storytelling. Items include pillows, scarves, notebooks, coffee cups, coasters, greeting cards and laptop cases.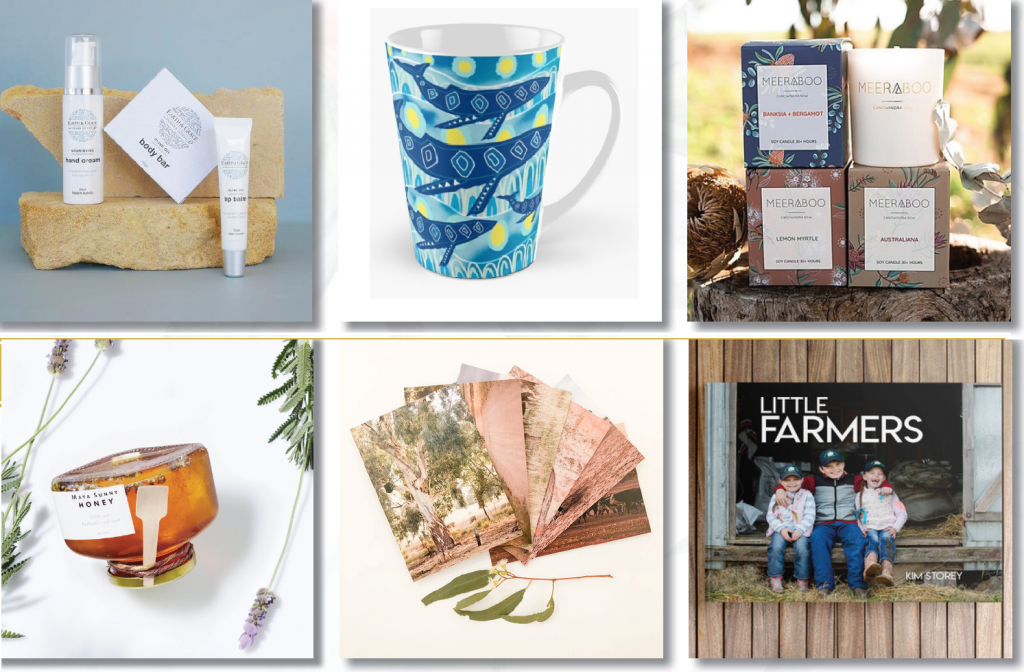 Proudly supporting regional and rural New South Wales
Your cart is currently empty.