The Strangers' Room
'Where strangers become friends'
This is the largest event space in NSW Parliament.
One of the grandest venues in the precinct, the Strangers' Room features floor-to-ceiling windows, panoramic views of the Domain, a built in PA system, four 60-inch plasma screens, a small stage, two wireless microphones and a lectern with microphone.
The Strangers' Room is ideal for gala dinners, award nights, corporate lunches, conferencing and large cocktail receptions.
This versatile room can divide into three sections (sections 1, 2 and 3).
Full Capacity: Banquet 300 | Cabaret 240 | Hollow Boardroom 80 | Cocktail 800 | U-shape 60 | Theatre 500
The Strangers' Lounge
The Strangers' Lounge, at the entrance of the Strangers' room, is perfect for pre-dinner reception drinks or a conference registration area.
Capacity: Cocktail 200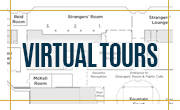 Did you know?
The Strangers' Room was originally designed as a meeting place where members of Parliament would entertain their guests, including visiting dignitaries, consulate representatives and members of the Royal family. Historically, these guests were referred to as 'strangers', thus creating the saying 'where strangers become friends'.

Today, we invite you and guests to continue this tradition and make new friends.

"There are no strangers here; Only friends you haven't yet met".

William Butler Yeat – Irish Poet
Enquire about this room