Open Monday to Friday
12:00 pm to 3:00 pm
The elegant Strangers' Restaurant overlooking the beautiful Domain Park provides a rare opportunity to experience fine dining at Parliament.
The Restaurant proudly serves ethically sourced and sustainable produce from New South Wales farmers.
  Click here to view the menu      
 Click here to view the wine list
The Strangers' Restaurant menu is carefully selected to showcase the unique and diverse regional produce of New South Wales.
Seating is between 12:00 pm to 2:00 pm
2019 Reopens Tuesday 22nd January 2019
 Did you know? The Strangers' Room ~ 'Where strangers become friends'

The Strangers' Restaurant was originally designed as a meeting place where members of Parliament would entertain their guests, including visiting dignitaries, consulate representatives and members of the Royal family. Historically, these guests were referred to as 'strangers', thus creating the saying 'where strangers become friends'.

Today, we invite your guests to continue this tradition and make new friends.

"There are no strangers here; Only friends you haven't yet met".

William Butler Yeat – Irish Poet 
 Did you know?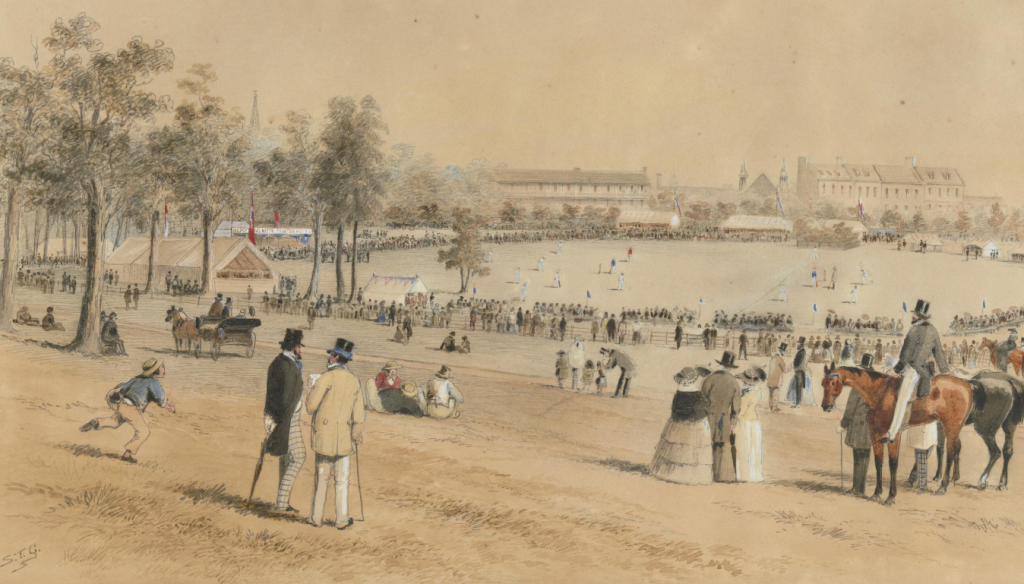 Image credit: Samuel Thomas Gill, National Library Australia.

In February 1788, the first wine grapes were planted at Sydney Cove.
In 1797, the first commercial winery was established in Australia at Rose Hill, Parramatta.
In 1822, Australian wine was first introduced to the rest of the world by pioneer wine maker Gregory Blaxland, who took a sample of wine to London and presented it to the London Wine Society.
In 1857, the first state cricket match between Victoria and NSW was played in Sydney, this event celebrated NSW produce and regional wines. NSW won.

The wine list at Parliament House continues to reflect the history and diversity of NSW wines.
Read more about the 14 great wine regions of Regional NSW.